Our mission is happy paying clients that call us back time and time again to repair and improve their homes.
Mark is a husband and a father of nine children. Having started and built a number of businesses, Mark knows that the people inside of a business are the key to its success. Through careful hiring, he's built a strong team that genuinely cares about our customers.
Outside of the office, Mark and his wife founded and lead a Montessori school in their community. They also own and operate a small farm in the northern Shenandoah Valley providing "beyond organic" grass finished beef and lamb to the burgeoning wholesome local food movement.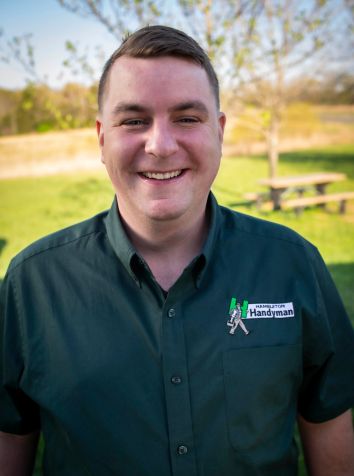 Raised in Ireland as the oldest son of a carpenter, Tommy came to the U.S. to attend college and graduated with a degree in Philosophy in 2013, writing his dissertation on that most common of human goals: happiness.
That topic now motivates him every day at the office, where he thrives on getting to know each client's home repair needs and making sure they are happy throughout the project. Our clients love working with him, just as much as he loves working with them! He lives with his wife and children in the Manassas area.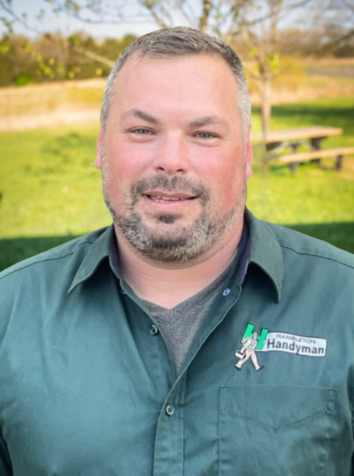 Meet Aaron, a Lancaster, SC native with 18 years of experience in the home improvement industry. Aaron thrives on seeing the end result of every project. In his downtime, he values quality time with his wife and family, and pursuing his favorite hobbies: 4-wheeling and hunting.
When you work with Aaron, you're partnering with a seasoned professional who finds joy in delivering tangible results.
Aldo was raised in Bolivia and currently lives with his wife in Woodbridge, Virginia. As a handyman with 18 years of experience, he loves making his customers happy by getting the job done right! He enjoys sports, particularly soccer.
In his downtime, you may find him working on his own home, or watching soccer on TV.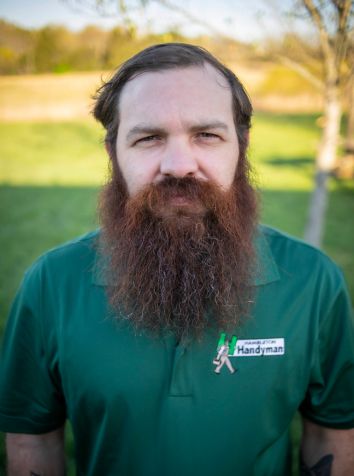 Brian was raised in Woodbridge, Virginia, but now lives in Manassas, VA. He has been working in the home improvement field for over twenty years, in a variety of handyman and remodeling roles. When he's not at work, you're likely to find Brian hanging out with his dogs, going fishing, or hiking.
David was born in Mexico but moved to Los Angeles later in life. He now lives in Riverdale, Maryland with his wife and family. He has been working in the industry for 22 years, and always loves to make clients happy with his work! His personal philosophy is centered on hard work, positivity, and sincerity.
Eddie is a New Jersey native who lives in Manassas, VA. His passion for working with his hands and doing home improvements makes him a great asset to all our clients.
Eddie is known for his attention to detail and putting his heart into every project he does. Eddie is also a talented cartoonist in his free time.
Eric was born and raised in Paradise – Paradise, CA that is. He now lives in Troutman, NC, with his wife and daughters. Eric takes immense pride in his work, finding joy in standing back after each project and savoring the sense of accomplishment. His favorite pastime is restoring anything old or anything with an engine.
In his downtime, he works on his own home and cars, adding his personal touch to every project, and enjoys spending time with his wife and kids.
Meet Frank, a Charles Town, West Virginia resident, originally from Clinton, MD. With 35 years of experience, Frank takes pride in his work, finding joy in working with his hands and ensuring every job is done right the first time. His personal philosophy reflects patience and precision—taking the time to do it the right way. Outside of work, Frank's passion is fishing, while football and basketball top the list of his favorite sports.
When you choose Frank, you're getting a seasoned professional who values craftsmanship, attention to detail, and the satisfaction of a job well done.
Gonzalo lives in Burke, VA, with his wife and daughters. Over his years of remodeling and home improvement, Gonzalo has perfected his craft, satisfying client after client! While he can handle almost any home improvement project, bathroom remodels are Gonzalo's favorite.
In his downtime, Gonzalo likes to cook for his family and play with his daughters.
Isai lives in Oxon Hill, MD, with his wife and kids. At work, Isai is known for professionalism, thoughtfulness, and taking the time to explain what he's doing to clients. He has a wide range of skills, being particularly fond of carpentry.
Outside of work, Isai likes to watch TV – particularly football.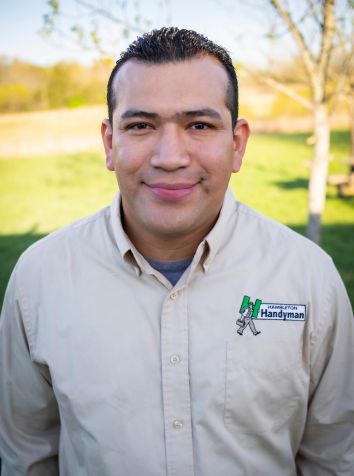 Jorge and his wife live with their three beautiful children in a quiet neighborhood in Reston. He loves meeting new people and doing new jobs through his handyman work – every person and every job is an opportunity to grow and learn!
Jorge believes in trying to be better every day, always by the hand of God. He used to play soccer frequently, but now he focuses more on fishing and spending time with his family.
Joe is originally from Woodstock, MD, but he and his wife now live in Warrenton, VA. Joe loves to work with his hands and see the fruits of his labor at the end of a project.
Outside of work, Joe enjoys cooking and discgolf – and reading with his wife.
While Jose possesses a wide variety of home improvement skills, he is Hambleton's undisputed drywall and painting superhero. Operating from a secret location rumored to be located somewhere in Reston, Jose takes on missions throughout Northern Virginia. Clients always appreciate his skill and the pride he takes in his work.
When not saving the world, Jose likes to relax by fishing.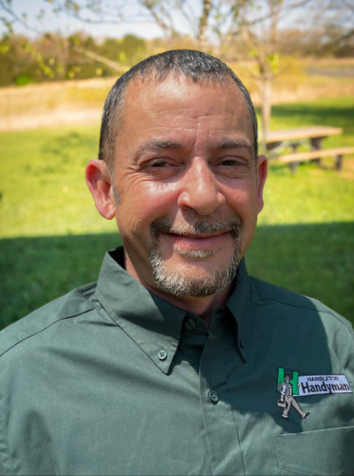 Meet JP, your experienced handyman, originally from Arlington, VA, now residing in Manassas Park with his family. With an impressive 35 years of experience, JP excels in troubleshooting and meticulous planning, embodying the motto "Do it right the first time."
When not perfecting homes, he indulges in off-roading, off-grid camping, bank fishing, auto restoration, and traveling the states. JP's love for baseball rounds out his diverse interests. Trust him for top-notch craftsmanship and a commitment to excellence in every project.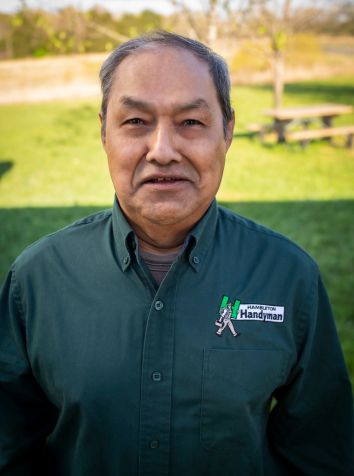 Marcelino lives in Sterling with his wife and sons. He has 25 years of experience in the home repair industry, and says his favorite part of the work is the opportunity to interact with clients.
When not working, Marcelino enjoys cooking, spending time with his family, and baseball.
Matt was born and raised in the Shenandoah Valley, where he lives now with his wife and kids. Matt works hard to provide customized service and quality to every job – he believes that you imprint a part of yourself onto every job you do, so it should always exemplify the best part of yourself.
In his downtime, you might find Matt spending time with his family, or watching MMA.
Max comes from Berryville, VA. He has always been handy with tools and has loved to help people as long as he can remember. His favorite part of his job is the satisfaction of solving people's problems.
When not at work, Max likes to go camping with family or friends and enjoy fellowship around a good campfire. He also really enjoys climbing – it's exhilarating to get up high and have an amazing view!
Max is a Christian and adheres to the faith of the first-century Church.
Meet Mike, a Gaston County, NC native, and a home improvement expert with 20 years of experience. What drives him in his work is the sense of purpose he finds with every project. Mike's favorite hobby is tubing on rivers, and he's a dedicated angler when it comes to fishing.
When you work with Mike, you're getting a seasoned professional who finds fulfillment in his craftsmanship.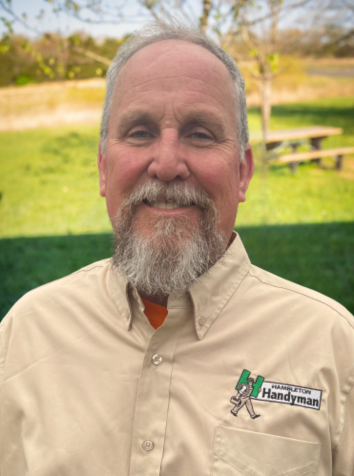 Meet Mike, your seasoned handyman, residing in Castleton, VA, but rooted in Falls Church. With an impressive 38 years of experience, Mike takes immense pride in his work and enjoys reflecting on each day's accomplishments. His life philosophy is simple: "Work hard, enjoy life, help others." When not wielding his tools, Mike finds solace in fishing and the open road, where he rides his motorcycle. In his free time, he tends to his farm and trains dogs, showcasing his passion for animals and nurturing their skills. Mike is your go-to craftsman, dedicated to improving homes and making a positive impact in the lives of others.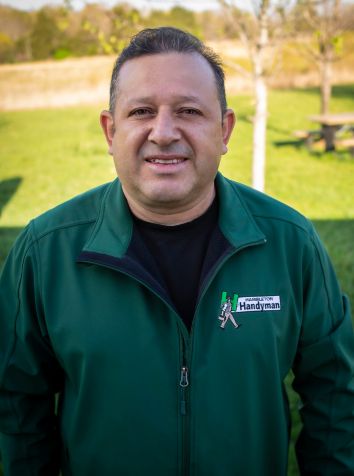 Oscar lives in Herndon with his wife and kids. Over his 20 years of work in the home improvement industry, he has always focused on doing his best for each customer.
Oscar's personal philosophy is to live your life with love. Outside of work, he enjoys spending time with his family, and playing or watching basketball.
Meet Roberto, your reliable handyman in Woodbridge, originally from Mexico City. With 15 years of home improvement experience, Roberto's philosophy is simple: "If you do it, do it well." When he's not perfecting homes, Roberto's passion lies in MMA, embracing the discipline and skill it demands. During his downtime, you'll often find him enjoying some PlayStation gaming. Roberto is your dedicated craftsman, committed to excellence in every project, and a true enthusiast in all his pursuits.
Meet Ruben, your experienced handyman in Herndon, VA, where he lives with his wife and five kids. With over 25 years of know-how, Ruben appreciates the variety in his work—no two projects are the same. His motto in life is simple: "Plan for tomorrow, but live for today." When he's not tackling repairs, Ruben is an avid baseball fan, enjoying the game's timeless appeal. He values spending quality time outdoors with his family, making cherished memories. Ruben's not just a handyman; he's a seasoned pro who embraces the diversity of each project while balancing the joys of today with the promise of tomorrow.
Scott was raised in St. Helens, Oregon, but now lives in Strasburg, VA with his wife and sons. After serving in the Marine Corps, Scott began working in the remodeling industry, and has built up 23 years of experience in running and executing remodeling projects. He loves that the industry always provides him with new problems to solve and challenges to overcome.
Outside of work, Scott spends time with his family – and with his dog! He enjoys water sports and watching football.
Sean is a jack of all trades, raised in Fairfax and now living in Marshall, VA. He has always been mechanically inclined and has experience in both the automotive and home repair fields. His personal philosophy is "Do it right the first time – you can pay for it now or pay for it later!" He puts this approach to good use for his clients.
When not at work, Sean likes to watch movies or hang out with his kids.
Meet Simon, your reliable handyman based in Springfield, VA, where he lives with his wife and stepson. Originally from Kent, England, Simon brings 25 years of expertise to every job, where he enjoys the daily variety and lives by the philosophy of "Keep calm."
Outside work, Simon finds peace in bike rides and fishing adventures. Soccer is his favorite sport, and he's an avid enthusiast. In his downtime, you'll often find him enjoying movies, playing video games, or immersing himself in music. Simon isn't just a handyman; he's a seasoned pro who values both tranquility and the diversity of each day's challenges.
Tim is a Virginia native who has 27 years of experience in remodeling and home repair. His favorite part of his job is meeting new people, which has established him as one of the friendliest members of our team. His goal in every job he takes is to make his client's dream come true.
He currently resides in Leesburg, VA with his wife where he enjoys fishing and tending to the goats and cows on his farm.
James was born the fourth of nine siblings and raised in Galway, Ireland where he learned the basic tenets of responsibility, accountability and hard work. His helpful attitude and attention to detail make James a sterling addition to the Hambleton Handyman team.
James studied Political Science at Christendom College for 4 years. In his personal time, he enjoys traveling and various sports, including soccer and golf.
Maria is the eldest of eight children, born and raised here in Virginia. Being the eldest she learned quickly how to take care of multiple things at once around her household and is skilled in getting tasks done efficiently. She earned her bachelor's degree in English Literature at Christendom College with a minor in Political Science, topics which gave her a passion for critical analysis and problem solving.
All of these things combined make her well equipped to address our clients' needs throughout their project. In her personal time she enjoys exploring Virginia and watching movies.
To help pay for college, Matthew worked summer jobs at roof truss plants in Florida and Missouri. This taught him about the value of determination, hard work, and air conditioning. After graduating from college with a very useful degree in philosophy, he began working in the (pleasantly air conditioned) marketing industry.
Outside of work, he enjoys studying chess openings and listening to Agatha Christie audiobooks with his wife.
Megan is a Virginia native currently living in Front Royal, enjoying the river and mountains of the Shenandoah. She has a strong background in new construction home sales, giving her not only an understanding of the more technical aspects of home features, but also the importance of the customer experience, as she regularly forms multi-year relationships with her clients.
On the weekends she likes spending time with her family and godson, trying out new recipes, and visiting local businesses.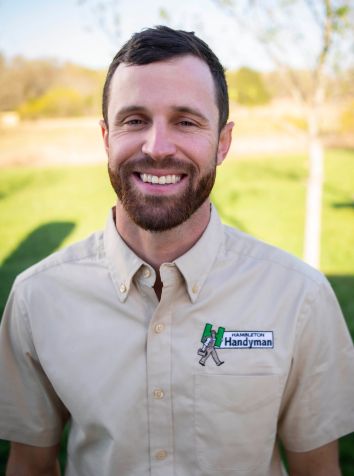 The eldest of the Accettullo sons, Michael earned a business degree while playing baseball at Belmont Abbey College. He fell in love with the area and has now helped us in opening our second location, bringing the same family-owned care and craftsmanship to the Carolinas!
Michael's greatest joy is being an uncle, and is fond of golfing, fishing and spending time in the Blue Ridge Mountains.
Patty is a Kentucky native who recently moved to the Manassas area to be closer to her oldest daughter and grandson. As a mom of four, Patty has always been organized and detail oriented, helping to get everyone where they need to be. As her kids got older, Patty used these skills in a variety of jobs, from catering, to an office manager, to running her own personal chef business. Most recently, she has added starting a travel agency to her list.
While not at work at HH, Patty enjoys exploring Virginia, Farmers Markets, cooking, planning her clients (and her families) next adventure and most importantly spending time with her grandson.